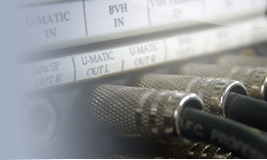 Frequently, original materials are not suitable for immediate use due to their format or different standard.
In order to guarantee high quality also in this important stage of the processing, Raflesia has set up its own rooms for transcoding and format conversion. We are, therefore, able to make your job even easier by returning your work to you on the medium and in the format that is most suitable for you.
In this case too, the competence and professional skills of Raflesia's staff ensure the greatest care and precision in handling the materials entrusted to them.
The following are only some examples of the services we can provide:
Transcoding: NTSC / PAL
Conversion of standards: PAL-B, PAL-M, PAL-N, NTSC, SECAM; 625/50 625/60; AES, SPDIF, ecc.
Re-recording: Digibeta, Beta SP / Digibeta, IMX, Beta SP, compressed and non-compressed digital files, DV digital files
Conversions: Digibeta, Beta SP, IMX, 3/4 " VHS, DVD, non-compressed files, DV, Various compressions.